Well, tot school hasn't made much of an appearance since Livi has been home but we have been trying to work it into our days more often the last few weeks. If you don't know what Tot School is you can hit the button below to find out all the details but basically it is a homeschool curriculum for preschoolers that focuses on learning through play. Jackson loves it and Livi is......well, she has a nickname in our house that fits her perfectly, The Destructor. Yes, anything that you might not even think could possibly be harmed will be destroyed in a matter of minutes so she is still learning to sit and control herself while playing with toys the correct way:) Maybe I will be better at capturing her disasters and posting them on the blog! Here are a few pictures of what we did this week: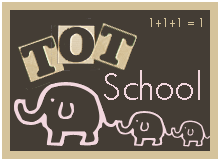 they loved scooping dried pasta into different bowls with different spoons
Jackson has also been watching A LOT of Olympics....
this results in "skating" in our socks on the tile floor with our golf clubs, or I mean, hockey sticks.
He also likes to ski and bobsled but those just consist of running around the house while he shouts, "Mom! I am bobsledding!"